The Jitterbug is a dance that has been around for almost a century. Its name originated during the 1920s prohibition era. If someone was withdrawing from drinking too much alcohol, they had the jitters. These jerky movements combined with music and the energy of youth to create an impressive-looking, if slightly frightening dance craze.
This new style of hoofing was influenced by The Charleston
   and the Lindy Hop.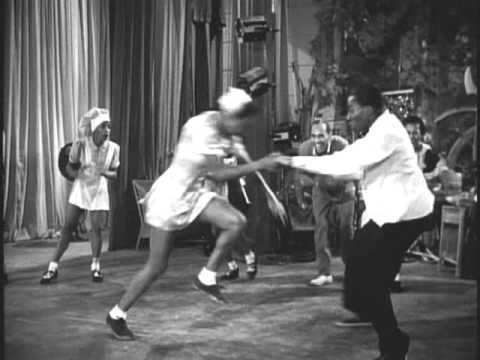 When Rock 'n' Roll music debuted in the 1950's, these moves complicated the new sounds that teens were enjoying. The fast beat of this music brought everyone to their feet and it was hard to sit still. With the invention of television and a dance show called, American Bandstand which featured dancing teenagers, music and musical acts, The Jitterbug, and its variations became popular again very quickly.
My grandmother, Bubbe, was a young teen during this time and she was a great source of information. She said school dances were a popular place to showcase this style of movement. Often the dances had a theme and the gymnasium was decorated accordingly. The energetic music encouraged the teens to swing each other around and show off their fancy footwork.
She said the boys wore buttoned down shirts, kakis or cuffed jeans, and wide elastic belts with a clip buckle. Sometimes lightweight cardigans with mother of pearl buttons were worn and loafers were comfortable dancing shoes. The girls often wore full skirts that swung when they danced, blouses, cardigans, chiffon scarves, and flats completed their look.
Bubbe described the jitterbug as a peppy, fun, and friendly dance. It was important to trust your partner as the moves were swift and jerky which could easily lead to injuries! She mentioned that her peers often shared new steps and everyone learned them quickly. At times, a school dance was just a chance to show off!
The Jitterbug has definitely stood the test of time. Different parts of this dance are still used today. There are times in the jitterbug 100 year history that teenagers didn't dance this style, but variations have been introduced to fit with current music trends throughout the years. How fun would it be to be a part of The Jitterbug's evolution from the 1920's to the 2020's.
Bailey Banville
Powers, Richard. "Teen Dances of the 1950s." Stanford.edu. Accessed March 19, 2015.
ZZSounds.  "It Began With a Hop to the Music: The History of Swing Dancing." Accessed on March 19, 2015.
Bailey (Published 2/25/15; Revised on 4/12/15)
Return to Teenage Wasteland Homepage: http://ericzuelow.com/Pages/TeenageWasteland.html