During the Vietnam War "a powerful mixture of chemical defoliants…containing the chemical dioxin" was manufactured by seven different companies. These companies include "the Dow, Diamond Shamrock Chemicals… Hercules Inc.,… Monsanto Co.,… T.H. Agriculture and Nutrition Co.,… Thompson Chemical Corp., and Uniroyal Inc." It was known as Agent Orange, which "was revealed later, to cause serious health issues—including tumors, birth defects, rashes, psychological symptoms, and cancer."
According to "Agent Orange Claim Settled," Agent Orange was "used from 1962 to 1971 to destroy forests and crops that provided food and shelter to Viet Cong guerillas." By using dioxins, which are "made up of carbon, oxygen, hydrogen, and chlorine…the number of chlorine atoms…determines the toxicity of different dioxins." Janice Joseph, an author at the Aspen Institute wrote, "about 60 percent of the herbicides…was Agent Orange…destroying 5 million acres of upland and mangrove forests and about 500,000 acres of crops. In human bodies the half-life is 11-15 years, though it can be as high as 20." This being said, the Vietnam War started in 1955 and "the first test spraying occurred in August 10, 1961" meaning that by the time the war ended in 1975 Agent Orange completed about one half-life.
After Vietnam, lawsuits were filed against the Agent Orange Companies by veterans of Vietnam. Veterans wanted money for being exposed to the toxic chemical. In 1985, The Washington Post said, "All lawsuits against the government by Vietnam War veterans claiming injustice…were dismissed."  Lawsuits against the government and against specific companies were mostly denied, however; it seemed that some companies that had chemicals in Agent Orange agreed to a settlement. Due to all the lawsuits, "the Agent Orange Act of 1991″ was established writes reporter Todd Purdum. The act allowed treatment to all veterans that were exposed to Agent Orange. This was the first step towards justice for Vietnam veterans, therefore people kept speaking out about the injustice.
One settlement was with, "Merrel Dow Pharmaceuticals [who]…agreed to pay $120 million to settle current and future claims that its drug, Bendectin…caused birth defects" wrote reporter Mintz Morton of the Washington Post. Some birth defects, according to reporter Jim Vines, are "Crohn's disease, Lupus, thyroid disease, chronic kidney disease, missing limb parts, and webbed toes." Children in Vietnam continue to suffer from these birth defects.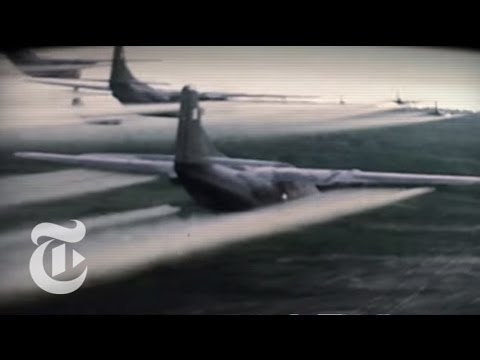 Children today suffer from mental illnesses, and physical challenges; meanwhile, their parents die of cancer or from other illnesses due to exposure. The video covers from 1961 when Agent Orange was first used up until 2014 where veterans are still trying to get their disability covered. In Vietnam there is still a chance that Agent Orange is in rivers, lakes, and the soil that the Vietnamese use. The U.S. has now decided to start help clean the rivers, lakes, and soil that Agent Orange was spread over by putting all the soil in a concrete building and apply heat to destroy the toxins.
Agent Orange has been the topic of debate about for approximately fifty years, and most veterans have received the disability care they deserve, however; there are still side effects to the people involved and to the land of Vietnam.
-Katherine Clark
(Published 3/26/15; Revised 4/7/15).
References
"Agent Orange Claim Settled." 1984.The Hartford Courant (1923-1989), May 08, 2. http://search.proquest.com/docview/547245321?accountid=12756.
All Agent Orange lawsuits are formally written off. 1985. The Washington Post (1974-Current file), Feb 09, 1985. http://search.proquest.com/docview/138801048?accountid=12756 (accessed March 14, 2015).
Joseph, Janice. "History: Agent Orange/Dioxin in Vietnam." The Aspen Institute. August 1, 2011. Accessed March 14, 2015. http://www.aspeninstitute.org/policy-work/agent-orange/history.
Morton Mintz Washington Post,Staff Writer. 1984. Bendectin lawsuits are settled. The Washington Post (1974-Current file), Jul 15, 1984. http://search.proquest.com/docview/138239410?accountid=12756 (accessed March 14, 2015).
Oregon State University. "Unsolved Mysteries of Human Health." What Is Dioxin? January 1, 2015. Accessed March 14, 2015. http://unsolvedmysteries.oregonstate.edu/flow_02.
Purdum, Todd S. 1996. "Agent Orange Payment." New York Times (1923-Current File), May 29, 2. http://search.proquest.com/docview/109551466?accountid=12756.
Staff, History.com. "Agent Orange." History.com. January 1, 2011. Accessed March 14, 2015. http://www.history.com/topics/vietnam-war/agent-orange.
Vines, Jim. "VETERANS' CORNER: Children of Vets Exposed to Agent Orange, Other Chemicals Should File VA Claims." Mineral Wells Index. October 11, 2014. Accessed March 14, 2015. http://www.mineralwellsindex.com/news/veterans-corner-children-of-vets-exposed-to-agent-orange-other/article_2fa9e2cc-50b9-11e4-8172-db6005c0fe93.html.
Back to Teenage Wasteland