Jimi Hendrix is, in many ways, one of music's most beautiful tragedies. His story began with a broken family; his mother was only 17 when he was born, and had a tumultuous relationship with his father, Al. Despite this, he was a remarkably talented child, and all of his musical abilities were self-taught. He could not read music at all, so he learned to play by ear– a very difficult thing to do. He picked up a cheap, secondhand guitar from a friend of his, and taught himself to play. After frequent and boisterous arguments between his his father left the family, Hendrix soon followed suit, and hardly saw his mother. After dropping out of school and some run-ins with the law, Hendrix was faced with an ultimatum: jail time, or join the military. He chose the latter, and served for just over a year before he was discharged honorably due to his disinterest in serving, however, on the official records it was said he was discharged due to an ankle injury while parachuting.
After his brief service, Hendrix launched full-throttle into his music career. Like many musicians of talent, his was not exactly an overnight success; Hendrix spent a few years working with different groups, meeting people, making connections and gaining experience, as most musicians do. He was undoubtedly talented, and it was obvious to anyone who heard him play— including Chas Chandler, who would become the manager that led him to stardom. This is the pivotal moment in Hendrix's musical journey; from the moment the two began working together, Hendrix's career took off at the speed of light. The Jimi Hendrix Experience was formed, and renowned artists of the time including the Beatles, Rolling Stones and The Who were talking about the incredible talent of one man. The group began it's quest for fame in Britain, and upon returning to the U.S in 1967, he became an overnight sensation after his performance at the Monterey International Pop Festival.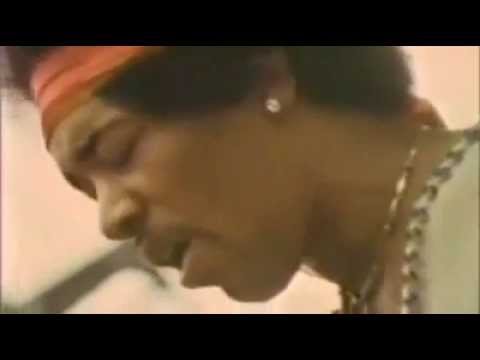 Hendrix was ahead of his time, very technically gifted, and exceptionally talented. He pushed the boundaries of music to the breaking point, and was not afraid to do so. Having taught himself to play by ear, Hendrix could hear the sound he wanted in his head, and convert it to his playing. This was the defining characteristic that set him apart from other great musical minds of the era.
His most famous performance was perhaps his rock rendition of "The Star Spangled Banner" at Woodstock in 1969. His experimentations with music would, without a doubt, have been much more numerous, if it were not for his unexpected death in 1970; Hendrix died at the age of 27 due to "drug related complications." Exactly how Hendrix died was all kept very vague; according to Rolling Stone, it was asphyxiation by vomit from taking nine sleeping pills. It still remains unclear whether or not Hendrix committed suicide, but irregardless, his story is one for the books: a dropout kid from a broken home becoming one of the greatest musical minds of all time—and changing the game of music for all who followed him.
Kendall Supple
References:
Bio.com. "Jimi Hendrix." Bio.com. A&E Networks Television, n.d. Web. 12 Apr. 2015. <http://www.biography.com/people/jimi-hendrix-9334756#rock-superstar>.
Rolling Stone. "Jimi Hendrix Biography." Rolling Stone. Rolling Stone, n.d. Web. 12 Apr. 2015. <http://www.rollingstone.com/music/artists/jimi-hendrix/biography>.
Vulliamy, Ed. "Jimi Hendrix: 'You Never Told Me He Was That Good'" The Guardian. The Guardian, n.d. Web. 10 Apr. 2015. <http%3A%2F%2Fwww.theguardian.com%2Fmusic%2F2010%2Faug%2F08%2Fjimi-hendrix-40th-anniversary-death>.
PBS. "Jimi Hendrix Biography." PBS. PBS, 31 Oct. 2013. Web. 22 Apr. 2015. <http://www.pbs.org/wnet/americanmasters/episodes/jimi-hendrix/jimi-hendrix-biography/2743/>.
New York Times. "Chas Chandler, 57, Bassist and Manager." The New York Times. The New York Times, 17 July 1996. Web. 22 Apr. 2015. <http://www.nytimes.com/1996/07/18/arts/chas-chandler-57-bassist-and-manager.html>.
Rolling Stone. "Jimi Hendrix, 1942-1970." Rolling Stone. Rolling Stone, 15 Oct. 1970. Web. 22 Apr. 2015. <http://www.rollingstone.com/music/news/jimi-hendrix-1942-1970-19701015>.